Patients are prepped just before surgery and the route of incision lines are marked along with the limits of the breast base and the inframammary fold. General anesthesia is usually administered and the procedure can begin. If you're been thinking about getting breast implants in Tunisia, here is what you can expect during the operation.
Surgical technique
Dr.Balti's approach is individualized for each one of his patients to offer them an optimal result. However, there are basic principles to any breast augmentation surgery.
3 main pathways (incisions) to the breasts allowing the scars to be discreet:
The areolar incision. This method is frequently used by cosmetic surgeons, the incision is made along the border of the areolas.
The inframammary incision. Also frequently used, this is incision is made along the inframammary fold (under the breast).
The axillary incision. Less frequently used, this incision is made in the underarms.
Positionning the implants after a pocket has been arranged to host them
Breast implants can be placed in front of the pectoral muscle or behind it.
The upper part of the implants can be placed behind the muscle whereas their lower part will lie in front of the muscle.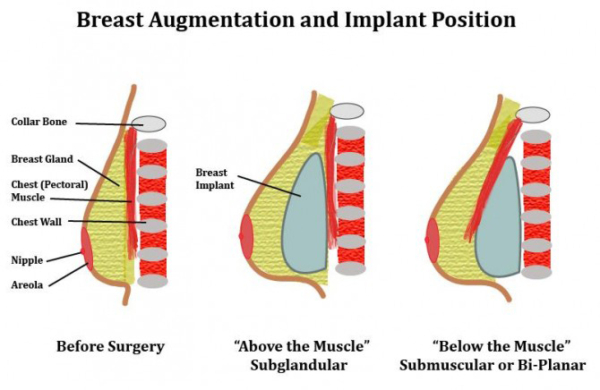 A dressing is placed over the incisions during a few hours. The surgery is 60 to 90 minutes long on average. Hostpitalization is usually short, most patients stay under medical observation overnight, but breast augmentation can also be performed as an outpatient surgery.
Variations
In case of breast ptosis (breast sagging), breast implants can be combine to the removal of excess skin to lift the breasts up, which leaves a vertical scar going from the areola to the inframammary fold.
Fat grafting can also be associated to breast implants for a smoother result, all these choices are discussed in details during the consultation with Dr.Balti and decided depending on the patient's objectives and body type.