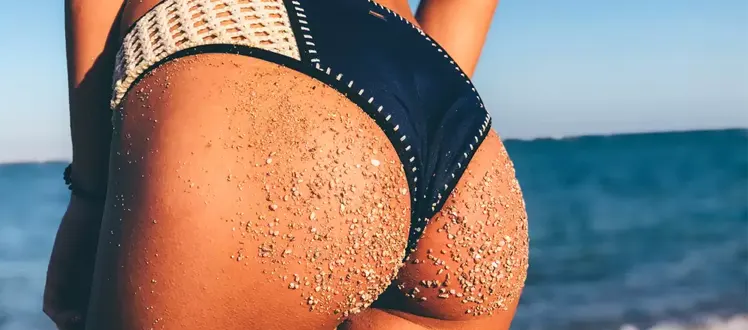 Given the importance of the appearance of the buttocks in today's beauty criterias, it is understandable that a lack of buttock volume can cause confidence and self-esteem issues in certain women. Buttock augmentation with implants can improve buttock volume to address this issue.
Who is buttock augmentation for ?
Any adult presenting with a lack of volume in the gluteal region can request this procedure, whether the lack of volume is genetically determined or caused by significant weight loss. The lack of volume can be associated with ptosis, or sagging.
How does buttock augmentation work ?
Implants used for buttock augmentation are made of silicone elastomers. Given the mechanical stress to which this region is subject to, buttock implants are significantly firmer than breast implants and positioned within the thickness of the gluteal muscle.
Different implant shapes can be used depending on the shape of the buttocks. For high and long buttocks, oval implants are usually used whereas round implants are used for any other buttock shape. During the procedure, the incision is made in the intergluteal groove, which results in a hidden scar.
Complementary treatments can be performed during the same procedure such as hips and saddlebags liposuction. A buttock lift can also be added to the operation if skin removal is needed.
What to expect from the recovery ?
A compressive panty is worn right after surgery. Postoperative pain is controlled by painkillers. Bruising and swelling are normal reactions of the body to surgery and progressively resolve over time. During the first day following surgery, patients are advised to stay up on their feet and avoid applying pressure on the buttock area. Patients also have to sleep on their stomach for at least two weeks.