The eyelid lift, also called blepharoplasty can correct aging of the eyelids. The eyelids tend to progressively be burdened with excess skin, marked with dark circles and what we commonly call 'bags' under the eyes. This and other facial aging signs contribute to a sad or tired facial expression.
If your eyes look hooded because of excess skin in your upper eyelids, contact Dr.Balti through the contact form of the website to see if you can benefit from an eyelid lift.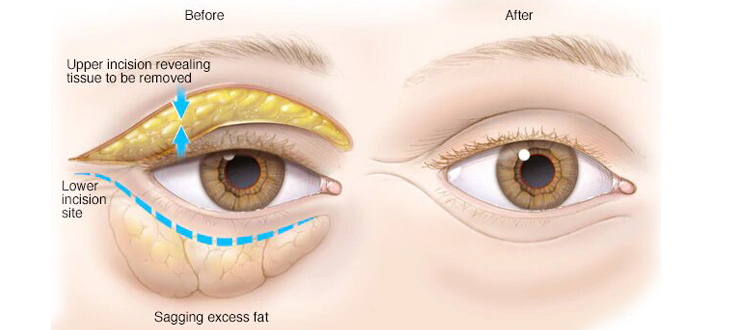 Blepharoplasty : surgical technique
Treating sagging upper eyelids brightens the eyes :
Excess skin causing the eyes to look hooded is removed
The internal fat pocket is thinned
Scars are well hidden in the upper eyelid fold.
Treating the lower eyelids aims at :
Alleviating wrinkles by restoring normal skin tension
Correcting or alleviating bags under the eyes
Alleviating dark circles
The incision is made 1 mm under the eyelashes.
Surgery overview
Before any procedure, a consultation with the surgeon is necessary
Patients have to stop smoking a month before and after their operation
Surgery is performed under general anesthesia and sometimes local anesthesia
Hospitalization : overnight stay, outpatient surgery is also possible depending of the case (patients can be discharged the day of the surgery or the day after)
The operation is 1 to 2 hours long
Sutures are removed after 3 to 6 days, except for resorbable suture
The recovery includes :
Swelling in the area during a few days
Bruising in the area during 7 to 15 days
Scars are hidden in the natural folds of the eyelids
The definitive result can be seen after approximately 6 months.